Black Cupid? Yes, you read that correctly. Jerome "Jay Dee" Davis takes his self-proclaimed title of "Black Cupid" seriously. The consummate professional, and husband, Davis and his wife, Shelly, enjoy traveling the world.
It was on one of their luxurious vacations that Davis expressed his disappointment in not seeing more couples of color at the vacation spots they visited. That disappointment lingered resulting in Davis creating Black Couples Getaways and taking on the title of "Black Cupid."
Now in its third year, Black Couples Getaways is the most significant black traveling group in the United States. Throughout each year the group meets at pre-planned travel destinations. Upon arrival, the couples enjoy a myriad of events which can include: a welcome reception, pool parties, all white party, dune bugging, horseback riding, meals, relationship empowerment sessions, networking, partying and even a booze cruise. The motto relax, relate and recharge fares well with the participants.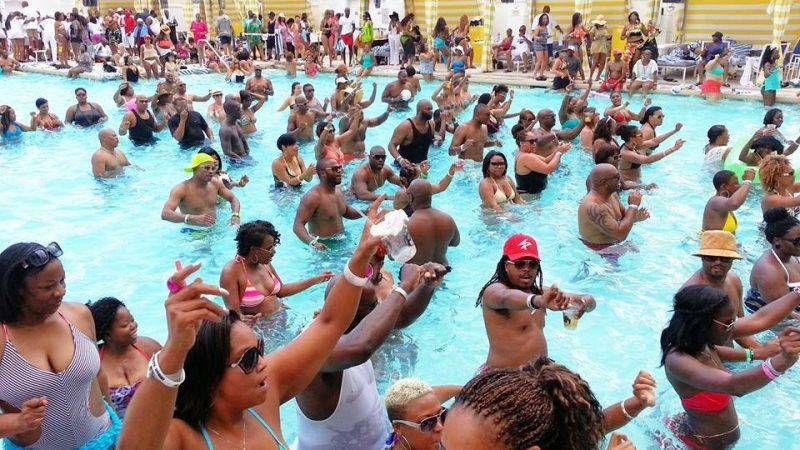 Although attendees have a lot of fun, Davis' mission to promote love and commitment among couples pays off. The testimonies of renewed relationships, behavioral changes and spontaneous proposals are a testament to his purpose. Leading by example Davis and his wife help other black couples realize that having it all is possible.
Black Couples Getaways has taken a life of its own with over 300k Facebook, Instagram, and Twitter followers. Numbers don't lie, black couples are striving to build better relationships, wealth and firm foundations, which ultimately makes healthier families and communities.
The 2019 agenda is set, and couples are already reserving their spots for a February getaway to Smokey Mountains in Gatlinburg, Tennessee, hosted by DJ Kid Capri. This trip includes an outing to Sugarland Cellars to sample the most exceptional homemade wine tasting events.
Memorial weekend is a sure pleaser for couples who will travel to the world famous, Las Vegas Strip. Most people know there is never a dull moment on the strip, from shows and concerts to relaxing spa days for a deep tissue massage. Black Couple Getaways adds fuel to the fire with a complete line-up of personalized events only experienced on one of their trips.
Davis doesn't just leave couples with a good time he also equips them with business knowledge from building and maintaining personal and business credit, real-estate investments, company finance, and acquisitions, through his company The Momentum Financial Group.
Davis is dedicated to building strong communities and uses his nationwide network of professionals and a national community investment corporation to do so. He serves on the board of directors for the Development Corporation, Inc., and the Urban Hangover, Inc.
As Davis continues to urge black couples to travel more, he and his wife Shelly escort their travel group abroad to destination locations such as Santorini Greece, The Canary Islands, Paris France and the great motherland of Africa.
Jerome "JayDee" Davis is all about business. His stellar list of professional accomplishments is noteworthy: one of the founders of JazzNet (Jazz and Networking), First Fridays (Nashville), First Fridays United, and The Urban Professionals Ski Getaway.
The achievements don't stop there, from 1992-2003, Davis served as vice president of Youth About Business, Inc. (a youth entrepreneur training program. He currently holds the position as Chief Visionary Officer for Urban Professionals which started in 2003 and is the largest web-based networking site for urban professionals.
Davis attributes his success to putting God first. You will not find quitting on his to-do list anytime soon. This Ohio native now living in the Atlanta metro area enjoys spending time with his daughters Alexis and Jessica, and teaches them that staying focused, working hard, and giving back to the community is the way to live.
http://www.beautifulmachineatl.com/meet-atlantas-black-cupid
Leave a comment